I try to keep a level head when it comes to reviews of my games and comics and such. If I get a negative review on Newgrounds, I almost always respond with a joke, a passive-aggressive retort, or in very rare cases, genuine concern for genuine feedback. And in the 7+ years I've been making games, I've only gotten better at this. After all, no one likes an angry internet poster, so I almost always brush off ill will and move on.
But then there was this review for my Voat.co submission of Jet Pack Jesus that really pissed me off yesterday: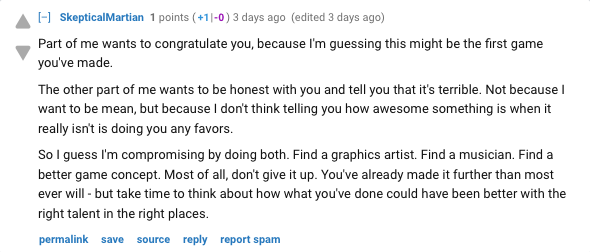 "first game you've made" Fuck you. I say that because I guessing it might be too late to tell you to go suck your first dick.
You know, it's not that he didn't like the game. Some people don't like my games and I'm fine with that. It's the gross condescension that gets me. He "wants to congratulate" me. He says "don't give it up", because I've "made it further than most ever will". I need to take my time and make a better game with "the right talent in the right places". He's on my side, you see, just doing Jet Pack God's work by telling me like it is.
Sure, he didn't actually clarify why the music sucks, or the art sucks, or the game concept sucks, or spend any time backing up any of his (baseless) assertions, but hey, it's charity or something, so who gives a shit or whatever, I should just be happy he even commented on my game.
Motherfucker, I spent 2 Jet-Pack-God-Damn Years on this fucking game. I spent plenty of time thinking about every moving part, and believe me, this is the game I wanted to make. If you didn't like it, fine, I won't bitch about your shitty taste.
But drop the shitty "coming from a place of love" act, because it's really only pissing me off,